Our Philosophy
APA is committed to providing students with an education in performing arts while establishing discipline and self-esteem. We offer every student the opportunity to perform in both a professional and recreational environment while showcasing the performing arts throughout our community.
Our Mission
The success of education depends upon the cooperation between teacher, student, and parent. Regardless of why our students are enrolled, be it for poise, health, enjoyment, a creative outlet, or the pursuit of a career, only a solid training program will bring the proper results.
It is our goal at APA to help each student develop discipline of the mind and body, build self-esteem, and help define each student's individual character.
With the proper training and strong curriculum, our students will form a love for the art of dance and theater and build confidence that will be rewarding throughout their lives.
Abernethy Performing Arts is family-owned and operated right here in Oregon City, OR. Since our company opened in 2007, we've treated every customer like they are a part of our family. Other companies may offer similar services, but our services make you feel right at home because we truly care about all of our students.
ABT® National Training Curriculum
Abernethy Performing Arts is proud to include the AMERICAN BALLET THEATRE® National Training Curriculum, a breakthrough 9 level program that combines high quality artistic training with the basics of dancer health and child development.

The ABT® National Training Curriculum consists of a comprehensive set of age-appropriate, outcome-based guidelines to provide the highest quality ballet training to dance students of all ages and skill levels. ABT® Certified Teacher Kaytee Horton has successfully completed the ABT® Teacher Training Intensive in Pre-Primary through Level 5 of the ABT® National Training Curriculum.
Our Director -
Keith Walls
Keith Walls is a graduate of Missouri Valley College where he majored in Education with an emphasis in Theater & Dance. He began his dance training under Patricia Downey, and with her encouragement he continued on and received a full scholarship to the Summer Dance Lab, a program created by professional dancers drawn from the Joffrey Ballet, New York City Ballet, and American Ballet Theater.
After college, Keith moved to Portland where he continued this training in ballet and theatre. He has performed leading roles in ballets such as; The Nutcracker, Don Quixote, the White Haired Girl (a traditional Chinese Ballet) & Sleeping Beauty. In 2003, Keith moved to New York City where he danced with renowned Russian teachers, Andrea Silantiev of the Bolshoi and Natalia Stavro of the Kirov. Keith's theatre and musical theatre credits include Sugar, Grease, Once Upon a Mattress, The Hostage, See How They Run, and many more. Keith has trained in musical theater with Diana Laurenson, Amanda Turner, and Andy Blankenbuehler.
In the Fall of 2007, Keith began the adventure of opening Abernethy Performing Arts. Now in its 11th season, APA has staged and produced over 17 ballets, 4 musicals, 2 traveling troupes, and a mirage of other performances and community productions. Mr. Walls has also written and directed two entirely original productions - the contemporary ballet Constellations, and the musical ballet The Goblin Market. APA has trained hundreds of dancers, actors, and performers and continues to offer superior training and education to all who dance, leap, or push their way through the doors.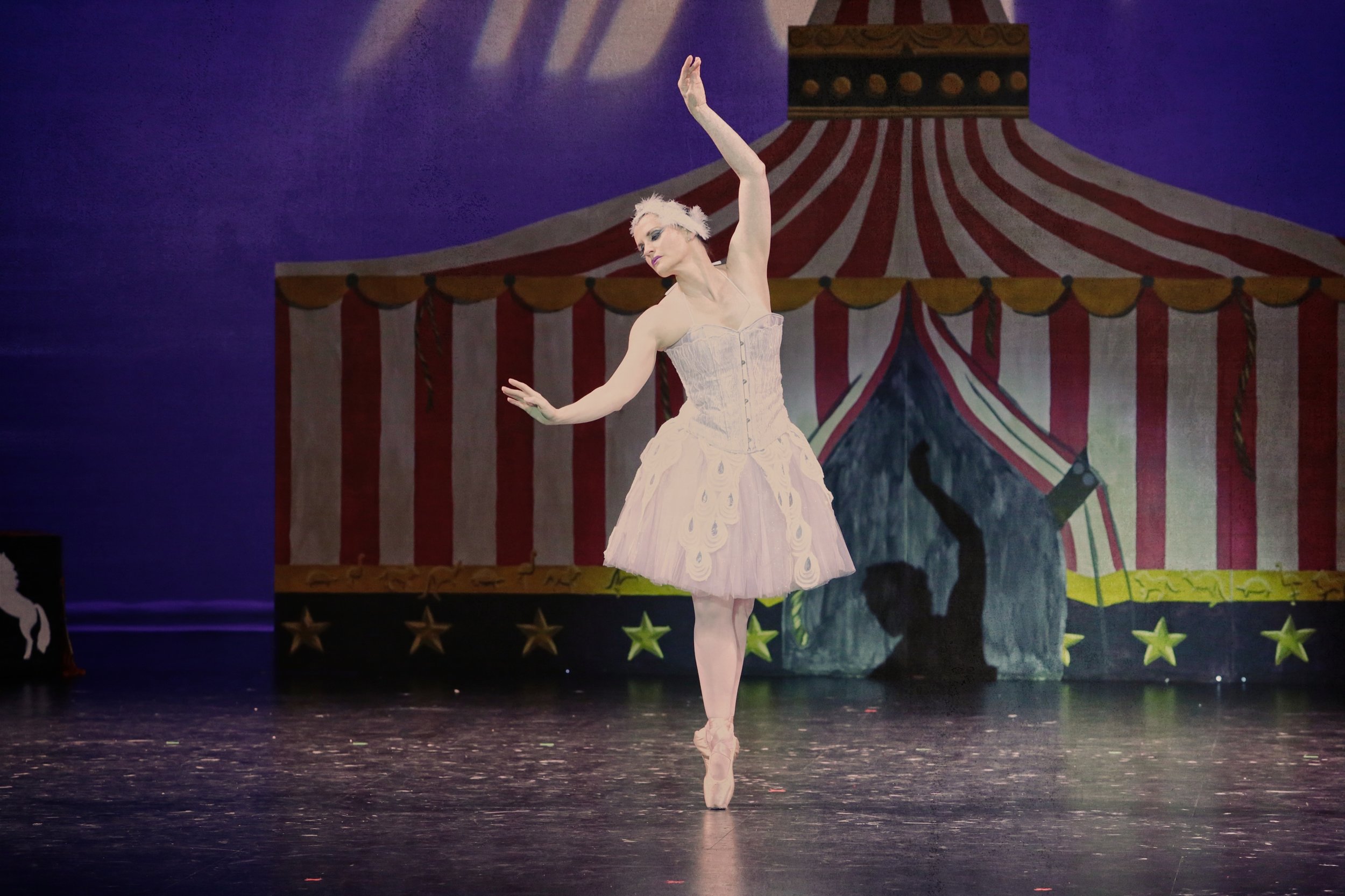 Melissa began her ballet training with Marjorie Soriano under the RAD syllabus. She was then given a scholarship by Benjamin Harkarvy for training and apprenticeship with Pennsylvania Ballet. Melissa has also trained and performed with Boston Ballet and the North Atlantic Ballet.

Locally, she has preformed with the Portland Opera and Musical Theatre Company and has been a guest performer for other companies, dancing leading roles in dozens of ballets.
Kaytee began her dance education at Northwest Conservatory of Dance in Hillsboro, OR in 1997 studying ballet, jazz, tap, and modern dance under Anita Mitchell and Daniel Black. She has since trained with Keith Walls, Cynthia Tosh, Franco De Vita, Raymond Lukens, and at Broadway Dance Center NYC, BodyVox, NW Dance Project, and The Portland Ballet.
Kaytee Horton is an ABT® Certified Teacher, who has successfully completed the ABT® Teacher Training Intensive in Pre-Primary through Level 5 of the ABT® NTC at ABT® Studios/JKO School in New York City. Kaytee has been both a member of and coached award winning OSAA/DDCA dance teams, and holds AFAA training certificates.
Kaytee teaches Ballet and Jazz at APA, and coaches/choreographs for YAGP competitors in the APA Elite Prep Program. She is also head of Marketing and Communications at APA.
Lindsay began formal dance training at June Taylor's School of Dance in ballet and jazz, and was both a varsity cheerleader and State Championship dance captain at Tigard HS before attending college at Oregon State University where she began taking classes in ballroom, Latin dance, and modern. Lindsay was a member of the Oregon State Dance Team and Cool Shoes Performing Company while at OSU.
From 2009-2018 Lindsay owned and operated Dolce Dance in Molalla where she coached State Champions Ignite Dance Crew four years in a row. Lindsay has also performed with Lyrik Contemporary Dance Company in Portland and professionally for the Vancouver Volcanoes basketball team. Currently she is pursuing the art of Aerial Silks and Lyra.
Moriah has been dancing as long as she can remember, and has been teaching at APA since 2014. She has studied under Artur Sultanov at Sultanov Russian Ballet Academy, where she also taught. Moriah has been with On Your Toes, The Portland Ballet, The Jacquie Kunsman School of Ballet, and Joy of Dance. She also helps with costumes, set/props, and rehearsals. She teaches Beg/Int Ballet and Strength & Stretch.
Christy first began ballet in 2010 under the teaching of Jackie Kunzman at the Kunzman School of Ballet in Oregon City. In 2012 she joined APA where she has since danced many roles both in the corps and as a soloist. She has attended summer dance intensives with both the State Street Ballet in 2014 and with the Walla Walla Summer Dance Lab in 2015. In 2013 She joined the APA teaching staff and currently teaches Pre-Ballet and Basic ballet classes, as well as our MOVE Early Ed program.
Pre-Ballet and Basic Ballet
Pre-Ballet and Basic Ballet
Cynthia teaches ballet at Jefferson HS and APA. She began her career at Ballet Pacifica under Lila Zali, she was the youngest to receive a Ford Foundation Scholarship to attend the School of American Ballet in New York City. Cynthia also received full scholarships to attend with Joffrey Ballet, American Ballet Theatre and The San Francisco Ballet.
Cynthia was a principal dancer with Chicago City Ballet and Chicago Lyric Opera under Maria Tallchief before joining The Boston Ballet as a soloist under the direction of Violette Verdy. There she partnered with Rudolph Nureyev in his production of Don Quixote. Her repertoire is extensive, including classical and Balanchine works.
Cynthia also spent ten years as Artistic Director of Portland Community Ballet.
Draven started dancing in high school with Journey Theater Arts Group, and since then has pursued many different styles of dance including musical theater, ballet, partnering, ballroom, jazz, hip hop, contemporary, and his favorites - tap and swing dancing. He is excited to be now teaching with APA.